Properly planning warehouse security measures is an important part of any warehouse setup process. Because failure to install an adequate security system makes a facility vulnerable to criminals, putting the business in danger of major disruption and losses.
Warehouse security measures cover a range of things, both internal and external, depending on the location, setup, and nature of the business. An in-depth analysis of neccessary security measures should be included as part of any warehouse setup project planning.
SEE ALSO: Warehouse project management: 5 important things you must get right
In addition to physical and technological strategies, warehouse security measures can also entail anticipating dates when the risk of being targeted by criminals is elevated, such as major public holidays or during events that are likely to have the police particularly occupied.
Serviap Logistics offers warehouse installation, refurbishment and relocation services in Brazil, Mexico and the United States, including the supply and installation of items such as collision barriers, floor markings and racking.
Contact us today to find out more about how we can assist you.
7 key warehouse security measures
Warehouse security measures are intended to reduce the number of security risks that exist in warehouses. New technologies have regularly emerged to strengthen security systems, including alarms, security cameras, inventory tracking and smart locks.
Many warehouse security measures are designed to work in harmony. So deciding which to install is not simply a matter of choosing certain measures in isolation, but of considering how they will function together and complement each other to reduce risks.
With security measures being an important consideration of project management, they must also be taken into account as part of warehouse layout design.
Among many warehouse security measures to consider, the following seven can be particularly important:
1) Control access 
Monitoring and restricting access is key to any package of warehouse security measures. This can be particularly important to maintaining security in a co-warehousing space.
It is common for workers to enter a warehouse or distribution center with an ID card or other scannable technology, including biometric data.
This will also allow you to monitor the activity of employees entering and leaving certain areas, so you can see where people are and for how long. This action is highly recommended to restrict access to highly sensitive or dangerous areas.
2) Install security cameras 
This is one of the best-known and most-used warehouse security measures, with active monitoring being a powerful deterrent to theft. Today, high-definition cameras are connected via the internet to external servers, allowing you to monitor facilities remotely.
Cameras work for both external and internal surveillance – to spot intruders and monitor suspicious employee behaviour. Internal camera systems are usually small and unobtrusive. Exterior cameras, however, must be heavy duty and durable to protect against assault and the elements. Both should be tamperproof. 
3) Upgrade your locks
If you currently access your warehouse with traditional keys, the risk of copying them is a possibility. This type of key can fall into the wrong hands and be copied, compromising your security. Instead, it is preferable to install electronic locks or keypad/keycode systems.
Warehouse security measures like this are more secure, as they can only be opened with a security code that is available to staff. That code can be changed periodically to prevent strangers or previous employees gaining access. A more secure locking system is the key to preventing unwanted entry into the facility.
4) Use an alarm system
Alarms are also incredibly common warehouse security measures. However, they too have undergone a period of innovation: the silent motion detection alert. When the alert is triggered it alerts security and/or police of unusual movement, and the monitor can detect intruders inside the warehouse. 
Help will be able to reach the location without the thieves becoming suspicious, and they can be caught in the act. This warehouse security measure is a highly efficient system that can run 24 hours a day, 365 days a year. The downside is that they are reactive, not preventative.
5) Illuminate well
Good lighting is one of the warehouse security measures that is essential for safety as well as security. It is important to make sure that each area is well illuminated so that staff and/or cameras can observe what is happening. It is also important not to forget the perimeter lighting for full visibility of intruders.
Proper lighting will also allow you to identify faces if facial recognition technology is being used. It acts as a deterrent for criminals who fear they may be easily recognized and as a reactive measure for bringing criminals to justice after a break-in.
6) Staff appropriately
Technology is all well and good, but security personnel are the bread and butter of warehouse security measures.
The staff eventually recognizes all employees and can detect any attempt by outsiders to enter the facility. They also act as a strong deterrent measure, as humans (or dogs) are harder to neutralize than cameras, for example.
Security guards are trained to act in emergency situations under strict protocols aimed at protecting personnel, equipment and goods. They are far superior to machines in terms of reacting and responding to real-world situations and can interact with people much better as well.
7) Conduct periodic inspections 
It is important to keep each of the above systems updated periodically. Remember that they are complementary, and to reduce the possibility of your security being breached, the systems must be updated and operating at 100 percent.
Among the actions you should ensure during the inspection, we recommend verifying that cameras and lighting are operating correctly and well-maintained and that all alarms are active. Evaluate possible risks and vulnerable areas, so that you can focus resources on soft entry points. Finally, conduct a thorough inventory count.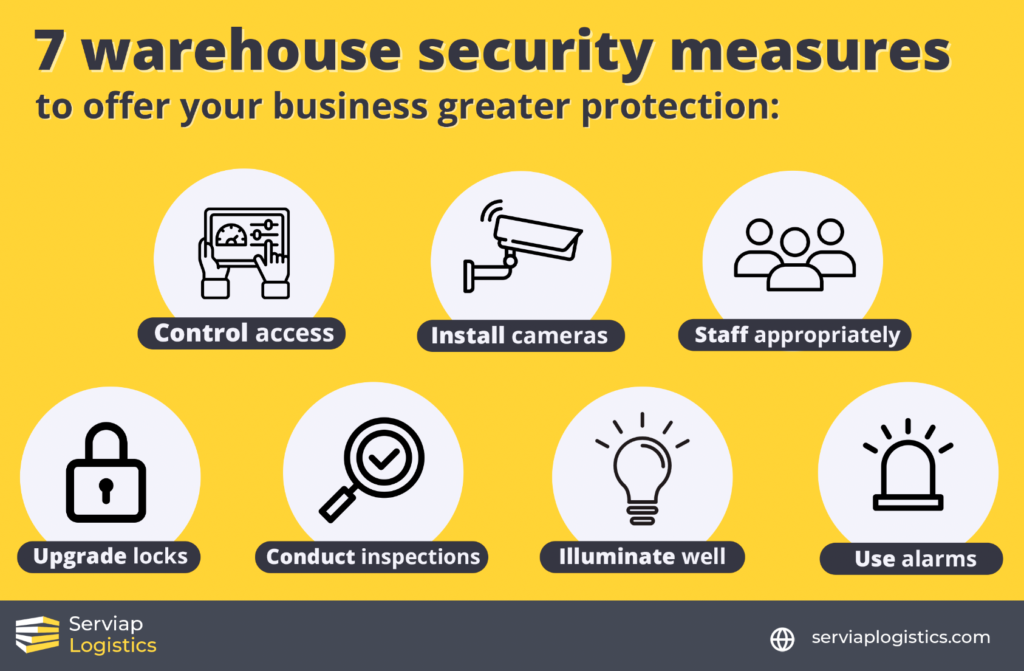 Serviap Logistics provides warehouse setup services
At Serviap Logistics, we support clients with warehouse setup, refits, and relocations in Brazil, Mexico, and the United States.
We provide and install the likes of racking, signage, and floor marking, while we also provide labels and offer project management services to oversee the installation of a tailored package of those features.
We are committed to service excellence and adhere to the highest safety standards wherever we work, including being OSHA certified in the United States. Our satisfied clients include some of the biggest and best-known companies in the world, covering sectors that include automotive, e-commerce, and wholesale.
Contact us today for more information on how we can help you.
If you were interested in this article about warehouse security measures, check out the rest of our coverage.