An optimized warehouse layout design is crucial to the efficiency of operations. Managing a warehouse or distribution center is not a simple task, but by choosing a layout that maximises the space and facilitates a sleek production line, your business can reap major rewards.
A good warehouse layout design also helps you avoid some typical warehouse setup mistakes, as well as keep clients and customers satisfied by helping boost the speed at which work can be processed.
SEE ALSO: Warehouse project management: 5 important things you must get right
Some of the benefits of the different warehouse layout design features below include the improvement of order fulfilment, the facilitation of goods access, the reduction of picking times, the shortening of delivery times, and the avoidance of accidents.
If you need someone to assist you with a warehouse setup, refit, or relocation in Brazil, Mexico, or the United States, contact us today.
Principles fundamental to proper warehouse layout design 
Before considering proper warehouse layout design, it is worth considering some concepts and principles that are fundamental to a functioning warehouse or distribution center.
Flow
Designing internal flow through a facility is a job that requires strategic planning in the warehouse layout design. The route of goods and materials must be contemplated from the moment they enter to the moment they leave the facility. Good flow undepins the overall efficiency of the operation.
A common way of optimizing this is by establishing one-way flow, which avoids the congestion that can occur in two-way channels. A single flow helps reduce heavy traffic and therefore possible accidents that can when large vehicles and other machinery are moving around.
A key tool in signalling flow is through the installation of proper warehouse floor marking, which will usually either be done with heavy-duty tape or special paint. Establishing a clear flow is something that takes planning and ideally needs to be done before the facility goes into operation.
Spacing
When designing a warehouse layout, a necessary amount of space must be dedicated to each zone so that any person using it can operate without difficulty. Spacing will obviously depend on the amount of people who wil be using it, as well as what they will be using it for. 
The need to fully maximise a space it what leads many to seek the assistance of warehouse setup specialist.  It is important to try to take into account the potential and likelihood of storage needs varying over time, as well as any other adjustments that may be needed to accomodate growth.
While it may not be possible to forsee every operational eventuality, planning for the future as much as possible is critical to spacing when it comes to warehouse layout design.
Equipment
Equipment size is another variable to consider in warehouse layout design. As such, having clear dimensions for each element will be important to planning thr layout. For example, knowing which warehouse racking you will be using will help you properly plan aisle distribution.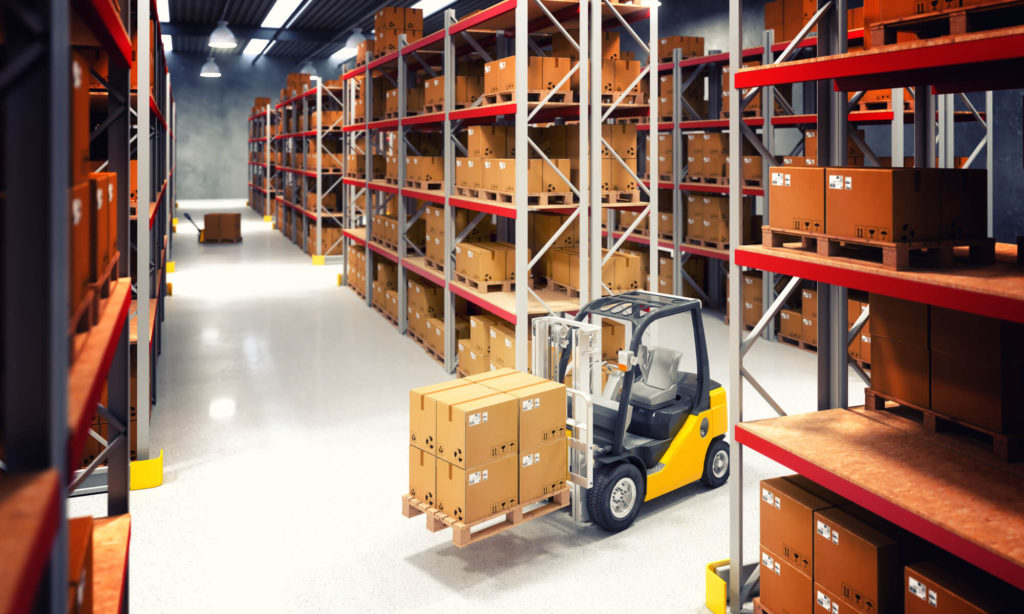 Another good example is the size of pallets that will be in use, which in turn may affect the types of pallet jacks, forklifts, and other equipment using the space.
All of this must be considered to the greatest degree possible when planning a warehouse layout design, because taking into account the equipment and organizing the space accordingly will not only make operations run smoother, but will also keep people safer.
Safety
When working on a warehouse layout design, safety will be a critical part of all of the abovementioned elements. However, it is also something that needs to be considered in its own right.
Controlling hazards and preventing accidents are critical considerations, and poor planning or design will put personell, goods, and equipment at risk. Depending on the type of activity taking place in the space, erecting warehouse safety barriers can be critical to guaranteeing safety.
Those barriers must also be properly integrated into all other elements of the warehouse layout design, such as floor taping and aisle dsitribution, in order to guarantee safety and maximise productivity.
Sustainability
An increasingly important consideration for warehouse layout design is sustainability, as consumer demand, rising energy prices, and the ever-more pressing need to protect the environment have risen to prominence.
SEE ALSO: 7 innovative warehouse sustainability ideas to improve efficiency
Incorporating the likes of skylights and windows in order to rely more on natural light, as well as using more environmentally-friendly lighting, are just a couple of examples of how sustainability can form part of a warehouse layout design.
A robust recycling program can also affect how a warehouse is setup, given that the collection and processing of goods for recycling will often itself demand space.
5 key zones in warehouse layout  design
A warehouse layout design will almost always include the following five key zones:
Loading / unloading
Any wharehouse will have goods coming in and leaving, meaning that loading and unloading zones are an important part of the facility.
With goods generally arriving and leaving on trucks, these zones will usually have dock doors built for easy access to trailers, however this may not always be the case.
In some instances loading and unloading areas will be separated, while in others they will be able to accomodate loading and unloading based on workflow and schedules. Whether loading and unloading need to be separated or combined will inform the warehouse layout design.
Reception 
Upon arrival at a warehouse or distribution center, goods will generally need to be quality controlled before being sent onwards to be stored or used, and that will take place in a reception zone.
Reception is therefore an important element of a warehouse layout design, and must be planned in order to accomodate revision of goods, as well as be placed in order to facilitate a smooth flow of goods from unloading to storage or use.
The type of goods coming in and where they are destined to go afterwards will have some influence over how a reception area is designed.
Storage 
A signifcant part of the space a warehouse or distribution center will be dedicated to storing goods and materials. Such areas will need to provide easy access to people, as well as any equipment or vehicles that will be used to store and pick them.
In many cases, the goods being stored will be kept on pallets that come in variety of sizes, and which also must be stored when not in use.
When planning a warehouse layout design, understanding the length of time goods will be stored and the frequency with which they will be picked or moved will be critical to guaranteeing the optimal use of the space.
Picking / shipping 
Most warehouses and distribution centers are based around a flow of work that involves picking goods from storage that will subsequently be used or shipped, and that will generally require designated zones to be established where picked goods are placed before being sent onwards.
Often in a picking area, some sort of preparation is done before the goods are shipped out — such as wrapping to keep them secure during shipping and the consolidation of goods into consignments for shipping.
As such when planning picking and shipping zones as part of a warehouse layout design, the access needed and preparation involved must be taken into account.
The office  
The operations of any warehouse or distribution center will be overseen by a team of managers, usually assisted by support staff, who will be based in an office area for at least some part of their working day.
Depending on the type and scale of the facility, this area may need to be placed to allow observation and oversight of operations. It may also include the likes of locker areas or break rooms for staff doing the work on the floor.
The office area will also need to be able to accomodate any planned for or anticipated expansion of operations. So properly locating and distributing the office area will also be an important consideration of warehouse layout design.
Serviap Logistics offers warehouse setup services 
At Serviap Logistics, we provide warehouse setup services in Brazil, Mexico, and the United States, including supporting refits and relocations.
Our services include supplying and installing the likes of collision protection, floor marking, labels, racking and signage.
We count some of the world's biggest companies among our satisfied partners, whose work covers the likes of automotive, e-commerce, and wholesale, among others.
Wherever we work, we adhere to the highest standards of safety, including being OSHA certified in the United States.
Contact us today to find out more about how we can assist you.
If you were interested in this article about warehouse layout design, check out the rest of our coverage.