When setting up a warehouse or distribution center, you will want to guarantee that your operations run smoothly from the very start. Below five crucial elements of most setups are highlighted, that will need to be properly taken care of as part of your warehouse project management.
Given the investment involved and time spent on setting up such a facility, many companies choose to partner up with a trusted provider to oversee their warehouse project management and install all or many of the features highligted below.
By working with a partner on your warehouse project management, you also enjoy the benefit of guaranteed compliance with all safety standards, such as those established by the Occupational Safety and Health Administration (OSHA) in the United States.
If you are looking for a partner to help you with warehouse setup in Brazil, Mexico, or the United States, contact us today.
Benefits of warehouse project management
Well-planned warehouse project management services provide your company with great benefits. The implementation of a high-functioning system offers:
Space optimization
Better workflow
High productivity
Full compliance with safety standards
5 things you must get right in warehouse project management
Successful project planning is a prerequisite for success. Therefore, you need to take many things into account with your warehouse project management.
First, you need to consider the space and how you can optimize it for efficiency. This is something a consultant or partner can help you with.
Next, you need to think about the goods you will be managing as well as the personnel and machinery that may using the space. All of this will inform your choices when it comes to warehouse setup.
The following five things will be used in most warehouses and dsitribution centers, so will be central to your warehouse project management
1. Warehouse signage
Installing well-displayed warehouse signage is a critical element of warehouse project management. Signage guides people around the facility and helps to keep the space well organized. It also plays a crucial role in ensuring safety and movement between different areas.
A range of different types of warehouse signage can be installed in order to optimize your business. The specific choice will depend on the type of operation you are running as signs may vary in colors and shapes according to their function.
For example, aisle signage and hanging warehouse signs will naturally need to be large and clear. Safety signs need to be in appropriate colors, normally red, yellow and/or black. Not only do signs need to be appropriately sized and colored, but efficient warehouse project management also needs all workers to understand what each sign signifies.
2. Warehouse labeling
Organizing a labeling system is another key part of warehouse project management. Labeling serves to identify items and help keep track of stock. Just as warehouse design is important to operate efficiently, so is the labelling system.
Shape, size, and material must be considered so that the label does not peel, smudge or rub off. Different types of labels can be found in a warehouse according to their function and location. Labels in high-traffic locations are usually chosen for durability, for example, while long-distance labeling will need to be very large.
Consider not only the label's durability, but also the organization of the printed information. A poor design makes it difficult for the operator to find and read. Item tracking usually involves going from the general to specific. In this refinement of the search, the labels should serve as a guide to facilitate the operator's task and carry it out efficiently.
3. Warehouse racking
Warehouse racking is an essential part of warehouse project management, providing organization and efficiency to operations. Optimizing space and facilitating both access to and storage of goods is key to smooth operations.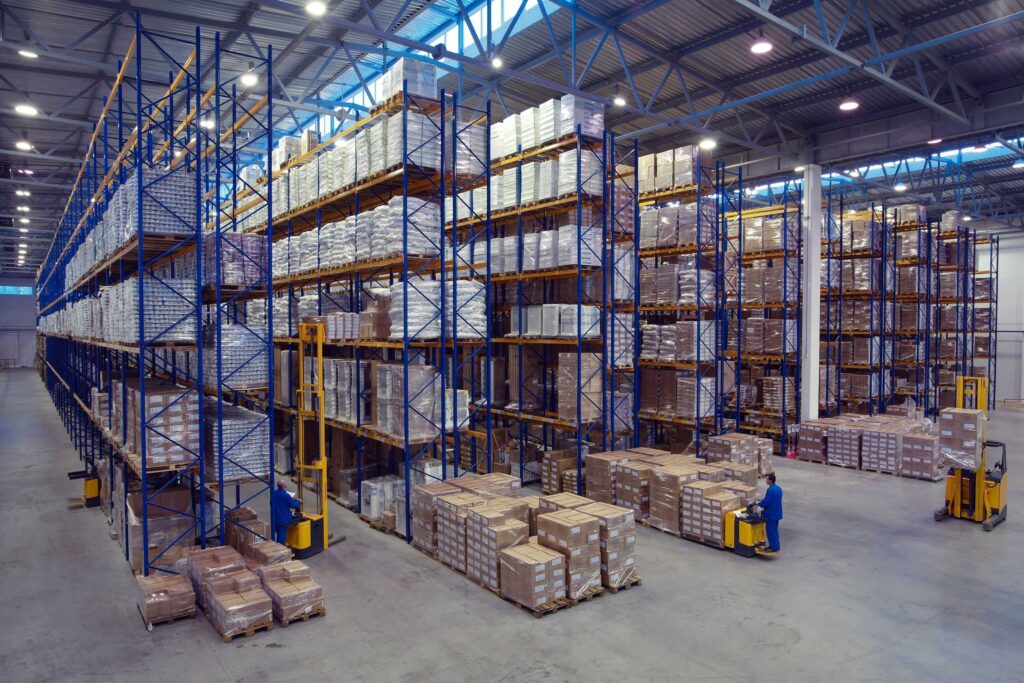 Before choosing and installing a warehouse racking system, you must first assess your needs in order to gauarantee that it is contrubuting to an optimal layout and distribution withing the space. There are different styles of racking for different types of goods.
The decision will take into account the people, goods and machinery that will circulate through the area when it is in operation. Other important factors include whether the goods are perishable or not, whether you operate a last-in-first-out (LIFO) or first-in-first-out (FIFO) system and the sheer space available for the racking.
4. Collision barriers
Collision barriers can be crucial in protecting workers, goods and equipment, especially when heavy vehicles are in motion. Installing different types of warehouse safety barriers helps reduce the risk of accidents.
Different types of warehouse project management will require different barriers, so you need to choose the right barriers for your space. There are many different types of warehouse safety barriers that can be installed. The most common are guardrails, bollards, column guards and safety gates.
The key considerations for warehouse project management revolve around the solidity of the barrier and its mobility. Very solid barriers provide absolute protection from collisions, whereas less solid ones may not provide total protection but also avoid damaging the colliding vehicle. Mobile barriers are typically less durable but can be easily changed when necessary.
5. Floor marking
Warehouse floor marking is crucial to maintaining safety, best practice and high efficiency in the daily operation of a warehouse. There are two main types of warehouse floor marking to choose between, taped and painted. Each of these has its own advantages and good warehouse project management will need to consider them carefully.
Warehouse floor taping is done with adhesive tape made of resistant material, while painted floor marking is done with heavy duty epoxy paint. These easily visible and clear stripes allow everyone using the facility to be aware of how the space should be organized and used.
Tape is cheaper and quicker to apply, so is generally more flexible. Paint has higher costs, especially in smaller spaces, and has specific conditions for setup. Paint is also more flexible in terms of customization, as you can tailor designs and spaces as you paint.
Serviap Logistics offers warehouse project management
At Serviap Logistics, we provide and install warehouse features in Brazil, Mexico, and the United States.
Those include collision protecion, labels, racking, signage, and floor marking. We also offer warehouse project management services, and can oversee your warehouse setup, refit, or relocation from start to finish.
We count some of the world's biggest companies among our satisfied clients and partners, covering a wide range of sectors, including automotive, e-commerce, and wholesale, among others.
As a family-run company that has grown internationally after starting out in Mexico, we are committed to service excellence and pride ourselves in providing a personalized service to every client.
We are also dedicated to upholding the highest safety standards wherever we work, including being OSHA certified in the United States.
Contact us today to find out more about how we can assist you with your warehouse project management.