Warehouse packaging plays a major role in logistics. With good packaging, the product will be able to reach its destination in optimal conditions. The supply chain is long and products may have to go a long way from the warehouse to the customer's house.
During storage, handling, transportation, and delivery, the product is at risk of damage, so companies are always looking for ways to improve the last mile. Warehouse packaging is a key thing to get right in that process. In the logistics world, 34% of returns are due to product damage, so it results in high costs for companies.
Good warehouse packaging will be responsible not only for reducing the economic losses related to the damage to the producer, but also for giving a good impression of the brand to the consumer. This means it has to go alongside your warehouse setup checklist when planning your facility.
To achieve both objectives, it is important to mention that there are two types of packaging. The first is correspond to original packaging, which is the product's own packaging and comes from the factory. The other is the shipping packaging. The warehouse packaging will have to be resistant and easy to stow. This makes it part of warehouse project management.
In recent times, warehouse sustainability ideas have become more important. Packaging has a single-use nature, so that they can be efficiently recycled or reused. Warehouse packaging is becoming an increasingly important front in the battle against climate change.
At Serviap Logistics, we provide warehouse setup services in Brazil, Mexico, and the United States. Contact us today for more information.
Importance of warehouse packaging
Designing warehouse packaging is a task that must take into account different considerations. While functionality is most important to avoid the product arriving broken, opened, or damaged, image is also important. The packaging must also be attractive to the end user, who likes to have a good experience when receiving the package.
With the explosion of short videos on the Internet and famous influencers making 'unboxing' clips on social media, brands and logistics services have made great efforts to improve their packaging, both internally and externally. Users also want to be part of that experience and receive their package in perfect condition.
In addition, in our world, everything is subject to public reviews. E-commerce giants have given the public the chance to share their experiences, so criticism of poorly designed or wasteful packaging is visible to millions. A negative rating can have a serious impact on repeat trade, and may even cause some to reject the company.
Never underestimate the importance of total customer satisfaction. Let's take a closer look at the main features of good packaging, whatever types of warehouse you are running.
5 key considerations for warehouse packaging
1) Protection
Good warehouse packaging helps protect goods from damage in transit. This function is undoubtedly the one that is of most interest to logistics companies and where the greatest efforts are made. Generally, the product will need to be wrapped with padding or internal cushions made of materials such as unicell to protect it from possible damage during transport.
2) Transportation
Adequate shape and resistance for handling must be taken into consideration in warehouse packaging. Warehouse package shape must consider several factors: storage, stowage, handling, and transportation. As far as shape is concerned, square or rectangular boxes are best as they can easily tesselate for optimum efficiency. Lightweight packaging is important for air transport.
3) Sustainability
As most warehouse packaging is single-use, it is important to consider sustainable materials. Logistics companies are making great strides every day to make their processes sustainable, and warehouse packaging is no exception. It is important to use recyclable materials such as rigid cardboard and paper and avoid or limit the use of plastics or polluting materials as much as possible.
4) Indications
An important part of the warehouse packaging should be focused on displaying symbols, signs, instructions, cautions, warnings, and other types of indications focused on providing the courier and user with the necessary information about the product. This information should be somewhere that is clearly visible to both transportation staff and the end customer.
5) Customization
A good brand identity will help attract the consumer's attention. In some cases, brands have already taken the final packaging step to enhance their presence and appeal, so there is no need to repackage certain items. This type of packaging is ready for wholesale. This gives the user greater confidence as the brand is visible and well branded packaging itself functions as a sort of advertising space.
Warehouse packaging materials and functions
As highlighted above, one of the main functions that packaging must fulfill is to be able to be transported without being damaged. To achieve this, there are several types used for different goods. Let's learn a little more about each one.
Plastic packaging
Another of the most popular packaging materials is plastic, because of the ease with which it can adopt different shapes and sizes. It is one of the preferred packaging materials for the cosmetic industry, cleaning and personal care products, and 'saver pack' versions. It can be found in tubes, bottles, jars, and bags. However, it is less sustainable than other options.
Cardboard packaging
It is one of the most widely used packaging types in different industries due to its rigidity and ease of transportation.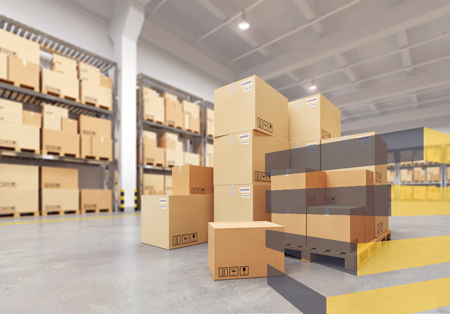 It can be used with footwear, household appliances, electronics, white goods, and various types of machinery of different sizes. It is generally easy to recycle or reuse, both for companies and individuals. However, it is less resistant than other materials.
Metallic packaging
This type of packaging is usually made of aluminum or steel and is the favorite of the food industry. These materials are usually very resistant to impact and liquids and are easy to pack and store in large numbers. In addition, the material is completely recyclable. However, it is relatively heavy.
Wooden packaging
This type of packaging is uncommon. It is designed for the transportation of products with a unique design or that require extra protection. Wood is used because it is easy to recycle, very resistant to impact, and it is also one of the materials that people can use at home. However, it is vulnerable to liquid contamination, flammable and relatively heavy.
Serviap Logistics provides warehouse setup services
At Serviap Logistics, we provide and install warehouse features in Brazil, Mexico, and the United States.
Those include racking, signage, labels, floor marking, and collision protection as well as warehouse packaging advice. We also offer project management services, and can oversee your warehouse setup, refit, or relocation from start to finish.
We count some of the world's biggest companies among our satisfied clients and partners, covering a wide range of sectors, including automotive, e-commerce, and wholesale, among others.
As a family-run company that has grown internationally after starting out in Mexico, we are committed to service excellence and pride ourselves in providing a personalized service to every client.
We are also dedicated to upholding the highest safety standards wherever we work, including being OSHA certified in the United States.
Contact us today to find out more about how we can assist you with your warehouse packaging.
If you were interested in this article about warehouse packaging, check out the rest of our coverage.