Warehouses are facilities that generally require a lot of energy to run and often produce a significant amount of waste. With environmental friendliness of ever-growing importance in all kinds of business, warehouse sustainability ideas are increasingly being sought.
The better use of space is one among many warehouse sustainability ideas, which also include recycling, purchase of second-hand goods, application of energy-efficient measures, and further adoption of electric power.
SEE ALSO: The 2 best warehouse floor marking options available
The warehouse sustainability ideas featured below are not only effective at cutting pollution, but in many cases also help to reduce costs, so there is a strong business case for adopting them beyond reducing environmental imprint.
Serviap Logistics provides warehouse setup, refit, and relocation services in Brazil, Mexico, and the United States, including providing and fitting features such as collision barriers, floor marking, and racking. Contact us today for more information.
1. Layout and construction
Right from the start, it's important to consider the layout of your facilities and avoid common warehouse setup mistakes. Modern warehouse sustainability ideas often emphasize planning above all. With a more efficient layout in place from the start, you will be able to maximize production on minimal energy usage as well as use energy conserving materials from the start.
Warehouse sustainability ideas preach the importance of avoiding double journeys and organizing warehouse racking and aisles so that high-volume goods have less distance to travel and better access to loading/unloading.
Looking to the future, consider building your facility so that further construction can go up as well as out. This allows more space in a smaller physical footprint, which in turn saves on the carbon footprint. Planning ahead also allows you to build-in key facilities such as charging stations for electric forklifts or recycling bins for pallets.
2. Energy efficient lighting
A warehouse must obviously have excellent lighting to avoid accidents. Switching to energy efficient lighting is an increasingly viable option among warehouse sustainability ideas, thanks to developments in LED lighting. Migrating to the use of LED lighting is not only an excellent way to control energy use, but also a major money saver.
Another option to consider may be creating skylights and windows, so that the warehouse can have free natural light that not only saves money, but also improves the mood and health of workers. Because people tend to feel and work better when they get some natural light
Finally, it is also important to make employees aware of energy saving measures and ensure that everyone takes small but important actions. This could include keeping equipment switched off when not in use, which also represents bottom-line savings. 
3. Use of electrical machinery 
One of the key components of a warehouse are forklift trucks, with these machines being used daily in the loading and unloading of goods. These were traditionally diesel or gas powered, but modern warehouse sustainability ideas are increasingly focused on electric forklifts.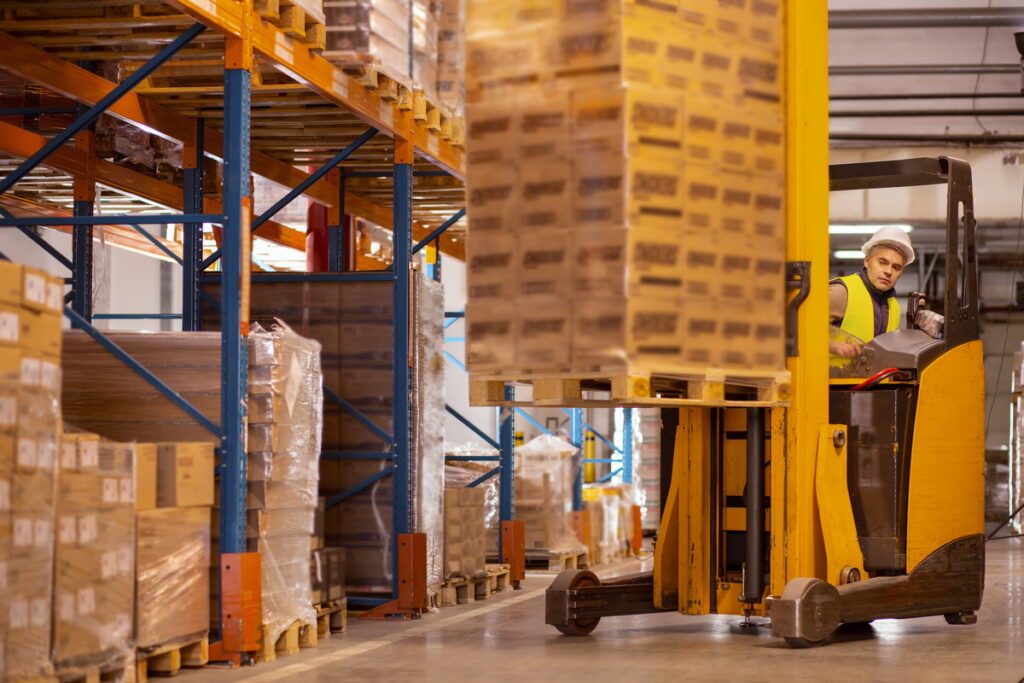 These innovative forklifts report a longer service life than traditional forklifts, which translates into significant energy and cost savings, even if the initial outlay is higher. It is important to invest in the servicing and maintenance of equipment to prolong its efficiency and durability. 
Also, electric forklifts do not produce emissions, making them far superior to either gas or diesel powered machines for warehouses with limited ventilation. Even better, they are also perfectly suited to warehouse environments that need to be sterile to house goods such as fresh food.
4. Biodegradable packaging materials
In 2023, most warehouse sustainability ideas make it a priority to eliminate packaging made of plastic or single use materials. With increasing concerns over both single-use plastics and forever plastics, the more this material can be avoided, the better.
A warehouse that seeks to be eco-friendly will make sustainable packaging a priority. Luckily, there are a number of easily sourceable alternatives, from glass to wood to even fully compostable or edible packaging.
Doing so is a way of acting with social commitment and reducing the waste that ends up in nature. When packaging is more efficient, it is lighter, and the cost of shipping also decreases. As with many of these warehouse sustainability ideas, saving waste is good for the environment and the budget.
5. Warehouse sustainability ideas using software 
Automation is the big trend in warehouse sustainability ideas. The organization and optimal control of deliveries are indispensable for the saving of resources, both in the operation within the warehouse and in the coordination of shipping transports.
Innovative software automates orders, facilitates work and automatically generates shipments. This avoids energy losses, improves existing routing efficiency and cuts down on double routing. All of this reduces errors and all the associated energy costs and wastage.
As innovation continues with automated warehouses, it is even possible for some warehouses to fully automate and therefore function as dark warehouses without lighting. This creates possibilities for enormous savings in energy and lighting costs.
6. Warehouse sustainability ideas on energy 
Solar panels are a key source of sustainable energy. On-trend warehouse managers have demonstrated the importance of their installation in order to save on electrical energy. Solar installation can be costly, however, in the long run it will result in great savings.
Thermal energy can also be exploited by warehouse facilities. There is a lot of heat generated in a working day, and using Phase Change Material (PCM) it is possible to store some of that heat and release it when needed off-peak. Insulation also plays a key role here, to trap and retain as much heat as possible.
Greening a warehouse takes time. Although both of these warehouse sustainability ideas have large price tags, they will deliver large long-term savings and protect businesses against volatility in energy markets.
7. Recyclable pallets 
Pallet racking for warehouses is a system that usually uses a wooden or plastic pallet as its base material. Both of these can be recyclable, which is a key metric for warehouse sustainability ideas. Wood has traditionally been more popular, but both have advantages.
Perhaps surprisingly, many warehouses with a recycling culture purchase pallets made of plastic. This type of material can be recycled on many occasions, which makes it an excellent option for sustainability. This is an example of how plastics can be used positively.
For warehouses that continue to use wooden pallets, these should always be recycled. Luckily, this is also relatively easy to do. Wooden pallets are cheaper, but they are more susceptible to damage, both in daily wear and by insects or climatic factors.
Serviap Logistics offers warehouse setup services
At Serviap Logistics, we provide warehouse setup services in Brazil, Mexico, and the United States.
That includes supporting refits and relocations, and our services include supplying and fitting the likes of collision protection, floor marking, labels, racking and signage.
We count some of the world's biggest companies among our satisfied clients and partners, covering a wide range of sectors, including automotive, e-commerce, and wholesale, among others.
If you would like to know more about how we can help you set up or level up your warehouse-based operations, contact us today.
If you were interested in this article about warehouse sustainability ideas, check out the rest of our coverage.