Racks, like all storage equipment, deteriorate over time through general wear and tear. A timely and proper examination of these items could prevent many problems in a warehouse or distribution center, such as damage and loss of goods. So, here are a few reasons why warehouse racking inspection is vital.
Racking sets are used to store and preserve goods in a warehouse or distribution center. They are the backbone of the distribution system and there are many different warehouse racking options. Whichever you choose, they must be monitored to avoid problems that could bring the whole operation to a halt.
SEE ALSO: 4 great reasons to install warehouse protection barriers
A warehouse racking inspection needs to consider a range of criteria, some of which are outlined below. These must be assessed correctly in order to deliver the optimum benefit to the operation – from safety to delivery speed and efficiency. Timing is also important and warehouse racking inspection should be scheduled appropriately.
If you are looking for someone to provide or install warehouse racking, or to carry out warehouse racking inspection in Mexico, Brazil, or the United States, contact us.
Warehouse racking inspection: What to do and when to do it
Good warehouse racking inspection follows a clear checklist. Some of these look for failures within the system, whereas others identify degradation or potential for deterioration in the equipment in the near future.
Screws, nuts and bolts are all checked to identify missing and loose units, while checks are made to guarantee there are no gaps between bracings, columns, beams, and decks. Metal racks are checked for signs of rust and must be free of dust as well as water or any other liquid that may be corrosive.
Bumps, scratches, and other impact effects within racks, casused by the likes of forklifts or heavy stored goods, are also sought out.
While some damage may be clearly visible, sometimes it will be less obvious, so a thorough warehouse racking inspection is necessary.
Other considerations during a warehouse racking inspection include the condition of the floor where the racks are located, any roof leaks that could be causing damage, and proper compliance with the weight and size limits of the stands. Some goods may have specific storage requirements to be checked as well.
The frequency of a warehouse racking inspection will depend on the specifics of each structure and regulations in the territory of operation. Still, typically there are weekly visual checks and reports, detailed monthly inspections, and annual reviews by a trained technician.
8 benefits of warehouse racking inspection
A systematic and regular warehouse racking inspection is necessary for the best performance of your warehouse, for the following eight reasons:
1) Enhances operational safety
Warehouse racking inspection is vital to maintain and improve operational safety. This type of supervision helps to monitor the state of the infrastructure – key for avoiding collapses and related accidents, which are often very dangerous.
Generally, to support a certain weight, racks are built with rigid materials that can cause severe injury if they fall on someone. Thus, identifying and replacing parts in poor condition will be crucial to preserving a risk-free environment before the worst happens.
2) Complies with legal standards
Depending on your territory, different standards regulate industries, and warehouse racking inspection is usually part of this. As work equipment, these structures must follow specific regulatory characteristics, such as material, location, storage capacity, and dimensions.
The United States, for example, has the Occupational Safety and Health Administration (OSHA). Although it does not include a specific clause regarding racking, it needs warehouses to store their goods safely and stably, meaning that warehousing racking inspection will help with certification.
3) Reduces costs
An adequate warehouse racking inspection can represent an extra expense in managing this establishment. However, avoiding your responsibility and not performing this supervision can be even more expensive.
For example, think of all the charges you must handle if you have not done a timely revision of one of your racks, which resulted in it falling, damaging your goods and facilities, and injuring one of your workers. This could lead to a shutdown of operations and the massive costs associated with that.
4) Identifies possible deficiencies
A thorough warehouse racking inspection often reveals other deficiencies in equipment, not only its visible damage but also problems in the assembly and the quality of its parts. Over time, obsoletion may need to be considered.
While the correct construction of racking is crucial to prevent accidents and damage to stored goods, this is not the full extent of its role. Deficient infrastructure also means that the warehouse cannot operate at full efficiency and can slow down distribution.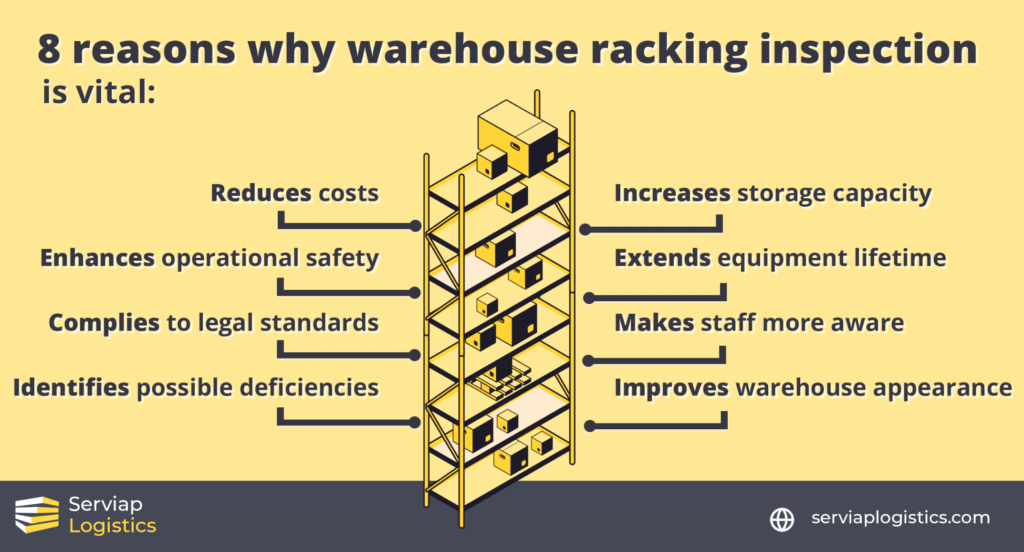 The eight key benefits of warehouse racking inspection
5) Increases storage capacity
Racks in perfect condition help to increase your warehouse capacity because, by having your equipment complete and functional, you can receive more goods and merchandise for storage. This builds in durability for times of crisis.
In turn, this leads to greater speed of distribution. With more space to offer, a warehouse racking inspection also benefits productivity and efficiency, which means profits and growth for your business.
6) Extends the lifetime equipment
When a rack is damaged and poorly maintained, its lifetime reduces significantly. A minor problem, if not taken care of in time, can grow and even lead to catastrophic failure. Warehouse racking inspection is important to identify situations that could deteriorate.
Replacing just one damaged part is significantly cheaper than buying another rack, not to mention any costs incurred from a structural failure. So, it's better to perform your warehouse racking inspection on time to extend the life of your storage items.
7) Makes staff more aware
Taking care of warehouse facilities is not only the responsibility of the owners or managers but also of all the staff who work there, from those who unload goods and store them to the personnel in charge of cleaning.
A warehouse racking inspection helps to give early warning of a knock, a dent, or even a leak, thus preventing further damage that could put staff at risk, cause costs, and disrupt the overall operation. Proper reporting also helps log and track less-visible problems.
8) Improves warehouse appearance
Finally, warehouse racking inspection will help to make these workplaces, in addition to being free of hazards, look good and enjoyable for people to work in. This may not seem like a major point, but it promotes a high level of professionalism and pride in work.
A well-laid-out, tidy warehouse, with quality equipment and in good condition, can even generate a certain peace of mind; nobody wants to be surrounded by racks that are poorly positioned, corroded, dirty, or that may be about to fall.
Final thoughts on warehouse racking inspection 
All storage equipment deteriorates with use, but having quality, well-maintained, well-positioned, compliant and clean items is essential for the proper functioning of your business.
Thus, the warehouse racking inspection is of vital importance, as it will help you to ensure that these structures fulfil the necessary standards to make your establishment a safe and risk-free environment.
Timely inspections will help you prevent many inconveniences and expenses, so it is more than necessary to carry them out.
Serviap Logistics provides warehouse racking inspection
At Serviap Logistics, we supply and install warehouse racking, as well as performing warehouse racking inspection in Mexico, Brazil, and the United States. We also offer signage, floor marking, and warehouse collision protection.
Additionally, we provide project management services to oversee a warehouse setup, refurbishment, or relocation, including any of the services mentioned above.
We are committed to service excellence, which is why we meet the highest safety standards wherever we work. Our satisfied clients include some of the biggest and best-known companies worldwide and come from diverse industries, including automotive, e-commerce, and wholesale.
Contact us to find out more about how we can help your warehouse.
Serviap Logistics provides warehouse racking inspection