Working with a warehouse equipment installation professional can be crucial to guaranteeing that your warehouse or distribution center runs safely and smoothly.
Whether you are just starting out or updating your installations, having a professional set up the likes of racking, signange, and floor marking will mean you can focus on the operational side of your business while enjoying the peace of mind of knowing your warehouse equipment installation is done properly.
Anyone working in storage, logistics, or production understands that setting up a warehouse or distribution center requires a lot of planning. While efficiency and productivity will obviously be key concerns, so too will safety.
One of the advantages of having professionals oversee your warehouse equipment installation is knowing that all of these concerns will be taken into account.
Because a professional will be accustomed to working to the highest safety standards wherever they are working, such as those established by the set by the Occupational Safety and Health Administration (OSHA) in the United States.
For anyone seeking more comprehensive support, warehouse equipment installation can also be part of a broader warehouse project management service. That will also involve the provider offering guidance on how to lay out and organize a facility, based on your operational needs.
At Serviap Logistics, we provide warehouse setup services in Brazil, Mexico, and the United States. Contact us today for more information.
Warehouse equipment installation for key infrastructure
Warehouse equipment installation for key infrastructure can cover the set up of any of the following things:
Racking
Warehouse racking is a crucial part of almost any warehouse or distribution center. While some types of warehouse racking can be relatively simple, others can be higly complex pieces of equipment with moving and electical parts.
As such, racking is a prime piece of infrastructure to be covered by a warehouse equipment installation service. If you are having your equipment installed as part of a project management and setup service, your provider will also be able to give you guidance on which types of racks to install.
That decision will consider the people, goods, and machinery that will circulate through the area when it is in operation, as well as the size and layout of the facility.
Floor marking
Warehouse floor marking is another element that almost no facility will be without, often being crucial to maintaining safety, flow, productivity, and high efficiency in daily operation. So laying it will generally be offered by any provider of warehouse equipment installation.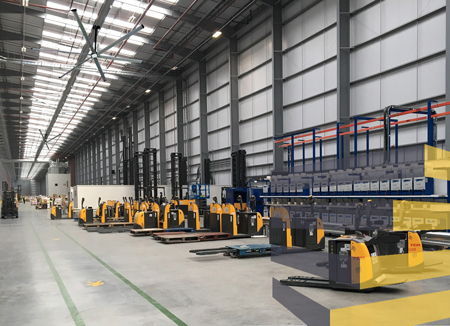 There are two main types of warehouse floor marking to choose from: tape or epoxy paint, and choosing which best suits your needs will depend on how permanent you want it to be and how resilient you need it.
Adhesive tape is cheaper and quicker to apply and remove, so it offers more flexibility if you think you may change your warehouse setup in the future. Meanwhile, paint is more costly and permanent, but is also more long-lasting, being able to withstand heavier traffic flows.
Signage
Another critical element of a facility, which will also be covered by a warehouse equipment installation provider is signage.
There are many different types of warehouse signage to choose from, based on your needs, including safety signs, aisle signs, dock door signs, and load capacity signs.
Warehouse signage should always be of an appropriate size and color for its use and installed where it can be easily seen, especially when its purpose is related to safety.
Protection barriers
Warehouse protection barriers guarantee the safety of people and keep equipment and the facility from unneccessary damage. That can be especially important when there is a signioficant flow of heavy goods and vehicles such as forklifts moving around.
That makes them another key element that anyt warehouse equipment installation will cover, with the complexityy of collision protection installation depending on the type being installed. In some cases, bollards and barriers will be sunk deep into the ground.
Given the importance of protection barriers, it is always recommended that a professional is contracted to offer guidance on which to place and where, as well as to install them.
4 reasons to hire a warehouse equipment installation professional
Hiring professionals to do your warehouse equipment installation offers a number of advantages:
1) Speed
When setting up or refitting a facility, it is always important to establish start and end dates before warehouse equipment installation. This planning is critical to making sure that subsequent activities can be properly planned for, so hiring a provider that will be able to work fast and stick to deadlines is important.
2) Expertise
Warehouse equipment installation is best done by a seasoned professional who knows exactly what they are doing. Such a provider will not only be able to install equipment quickly, but will also be able to anticipate any possible issues with an installation before they arise, as well as call on their experience to overcome any unexpected obstacles or setbacks during a setup process.
3) Focus
As previously mentioned, handing over warehouse equipment installation to an expert allows you to focus on other aspects of your business. That can be especially important if you are setting up a warehouse or distribution center for the first time, or relocating a facility, as it frees you up to focus on making sure everything you are going to need to start operating once setup is completed it taken care of.
4) Safety
Guaranteeing safety is at the heart of every aspect of a warehouse setup process, with your key infrastructure being of particular importance in terms of eliminating and mitigating possible risks. So handing your warehouse equipment installation over to a professional means you guarantee that all relevant safety concerns and regulations are taken into account.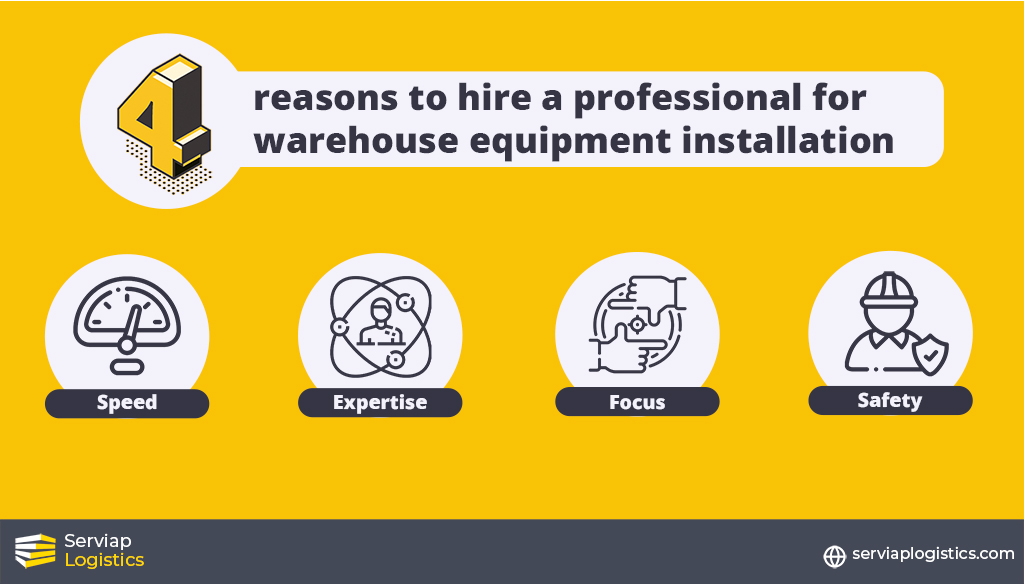 Safety standards associated with warehouse equipment installation
Warehouse equipment installation will need to be carried out in accordance with any statutory safety standards applicable in the location where the facility is located. In the case of the United States, some of the standards established and enforced by OSHA will affect warehouse equipment installation.
While the standards found in other countries will vary, they will generally be quite similar, and OSHA regulations are often held up as representing best practice in many locations where regulations are not as robust.
As such, if you are going to contract a provider of warehouse equipment installation, you will want to make sure they are OSHA certified if operating in the United States, or familiar with the relevant standards in any other country.
Serviap Logistics provides warehouse equipment installation
At Serviap Logistics, we provide warehouse equipment installation in Brazil, Mexico, and the United States.
Our installation services cover racking, signage, floor marking and collision protection. We also provide labels and offer project management services to oversee a warehouse setup, refit, or relocation from start to finish.
We count some of the world's biggest companies among our satisfied clients and partners, covering a wide range of sectors, including automotive, e-commerce, and wholesale, among others.
As a family-run company that has grown internationally after starting out in Mexico, we are committed to service excellence and pride ourselves in providing a personalized service to every client.
We are also dedicated to upholding the highest safety standards wherever we work, including being OSHA certified in the United States.
Contact us today to find out more about how we can assist you with a warehouse setup checklist.