The Occupational Safety and Health Administration (OSHA) is part of the United States Department of Labor and is responsible for ensuring that all workers operate in a safe and healthy environment. The agency oversees a range of regulations and training programs, with different types of OSHA certification available to both companies and individuals.
This agency was established in 1970 to create a more robust system of accountability for the safety of people among the companies that employ them. OSHA certification is relevant to a wide array of different types of workplaces, with the ultimate intention of preventing injuries and deaths.
According to OSHA, every year in the United States around 3.5 million people suffer accidents at work, many of which could have been prevented.
In warehouses and distribtion centers, OSHA regulations cover a broad range of aspects, related to the likes of warehouse layout design, as well as specific elements of facilities, such as the colors and dimensions of warehouse floor marking.
At Serviap Logistics, we provide warehouse setup, refits, and relocation services in Brazil, Mexico, and the United States. Contact us today for more information.
What is OSHA certification?
OSHA certification takes two main forms: that which is gained by individuals so that they can be considered for certain types of job roles, and that which is acquired by workplaces to guarantee that the environment is as safe as possible for people working there.
This article is focused on the latter, and more specifically on warehouses and distribution centers.
OSHA certification for a warehouse or distribution center demonstrates that a facility complies with a wide range of guidelines and has systems and processes in place intended to make the space as safe as possible for the people using it.
Operating with poor design, a lack of clear warehouse signage, or a failure to work in accordance with internal standards and official legislation can seriously compromise worker safety and lead to legal problems.
Morevoer, while OSHA certification is required by law and crucial for the protection of workers, it also helps with the smooth operation of a warehouse or distribution center.
Although OSHA ia US-focused organization, the rules and guidelines it establishes are often considered best practise internationally, and many countries have similar regulations. Even where OSHA certification is not a legal necessity, the safety stipulations it entails are generally adviseable.
However, it is on in the United States where OSHA has powers is to conduct unannounced inspections of workplaces, with considerable penalties applicable to those that are in non-compliance. As such, OSHA certification is an absolute necessity in the United States.
OSHA certification in warehouses
In the United States, the fatal injury rate in the warehouse industry is higher than in many other industries, and there are many areas within warehouses that are potentially hazardous and pose an ongoing risk to workers.
As a result, OSHA pays special attention to warehouses to guarantee that they are configured in the best way to reduce the risk of accidents and minimize potential hazards to workers.
Among many operations elements of a warehouse, OSHA certification establishes guidance on the following nine areas:
1) Forklifts
Operating a forklift is not a task that should be assigned to just anyone. These are powerful and potentially dangerous machines. OSHA certification demands that only trained individuals are allowed to work as operators, to avoid injury to other people, or damage to equipment, inventory, and the warehouse itself.
Stipulations include:
Certified forklift operators must be over 18 years of age and wear seat belts when operating
Distances and speed must be respected
Personnel should never be lifted under any circumstances.
2) Ergonomics and musculoskeletal disorders
Warehouse workers are always at risk of injury in the workplace due to the frequent loading of heavy items, so OSHA certification suggests certain options for them to perform their work without harm to the body.
Stipulations include:
Provided seating has lumbar support
Boxes being carried should have a maximum weight of 35 pounds (15.8 kilos)
A system of task rotation and work cycles must be developed to avoid repetitive strain injury.
3) Handling materials
Warehouses are spaces where there is often potential for personal injury and facility damage from poor storage or handling. One of the biggest risks is falling items, so goods must be properly secured on the shelves.
Stipulations include:
Installation of rack guards to prevent damage from contact with forklifts
Ensuring that all materials are stacked carefully and do not exceed load capacities
Arrangement of shelves so that the heaviest loads are at the bottom.
4) Falls and slips
Falls are a frequent cause of injury to workers. Workers should be made aware of best operating practices to prevent injuries or fatal consequences from falls, slips, or trips in hazardous work areas, especially any in elevated positions.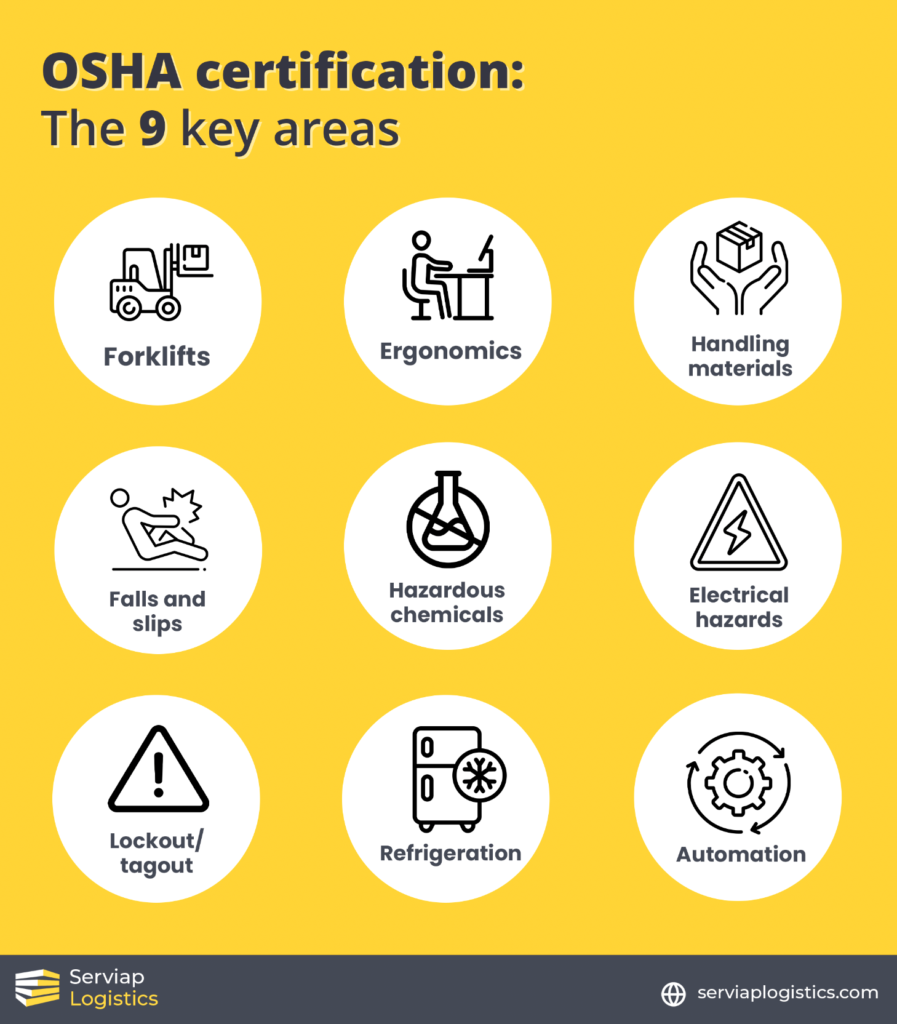 Stipulations include:
Workers must be provided with protective headgear
Workers who make use of items such as ladders or platforms must recieve training
Floors and walkways must be kept clean and free of objects that can cause falls.
5) Hazardous chemicals
If there are chemicals in the warehouse to which employees are at risk of exposure, the following OSHA certification rules must be followed:
All staff must be informed of the hazards of chemical use
A list of chemicals and safety data sheets must be kept
Labels on containers must be kept visible.
Additionally, there may be other legal regulations specific to certain chemicals in certian territories.
6) Electrical hazards
Warehouses often have many electrical elements, so employers must ensure that they operate properly and are free of hazards such as shorts or sparks. Specialist fire control systems that will not conduct electricity need to be in place as well.
Stipulations include:
Equipment must have clear labeling and instructions
Overloading individual powerpoints must be avoided
Electrical power supply systems must be grounded.
7) Lockout / tagout
When workers are performing maintenance or servicing equipment, they can be electrocuted and be seriously hurt. Employers should make a clear and easy to follow lockout system in case of accidents occurring.
Stipulations include:
People using potentially dangerous machinery must be isolated
Workers must be trained correctly to operate and maneuver machinery
Workers must be made aware of the lockout system and receive ongoing training.
8) Refrigerated Warehousing
When working in a refrigerated warehouse, workers may be at risk of cold stress, hypothermia, and musculoskeletal disorders. Doors and other entry points need to be secured and controlled to prevent the risk of workers becoming trapped.
Stipulations include:
Workers must be trained on the hazards of working in coolers and keep doors open to allow exit
Employees must be given the chance to adjust to working in such an environment
Insulating and protective clothing must be provided, and replaced if made wet.
9) Automation and Robotics
New hazards are coming to light as new technologies are more widely used to perform automated tasks and improve productivity. Their use is not exempt from regulations, and this is a field particularly open to changes going forward.
Stipulations include:
Conveyor belts and automatic wrapping machines must be correctly installed
Workers musty be made aware of the dangers of industrial robots
Any such equipment must be subject to periodic revision and assessment.
Serviap Logistics offers warehouse setup services
At Serviap Logistics, we provide and install warehouse features in Brazil, Mexico, and the United States.
Those include racking, labels, signage, floor marking, and collision protection. We also offer project management services, and can oversee your warehouse setup, refit, or relocation from start to finish.
We count some of the world's biggest companies among our satisfied clients and partners, covering a wide range of sectors, including automotive, e-commerce, and wholesale, among others.
As a family-run company that has grown internationally after starting out in Mexico, we are committed to service excellence and pride ourselves in providing a personalized service to every client.
We are also dedicated to upholding the highest safety standards wherever we work, including being OSHA certified in the United States.
Contact us today to find out more about how we can assist you with OSHA certification.
If you were interested in this article about OSHA certification, check out the rest of our coverage.