Operational safety is a fundamental consideration in any warehouse or distribution center, no matter its size or function. Among many features that can be critical to keeping a facility safe are warehouse protection barriers.
Alongside the likes of floor marking and signage, warehouse protection barriers can form an important part of any warehouse layout, especially if there are significant flows of both people and vehicles in the space.
SEE ALSO: Warehouse layout design: 5 zones critical to productivity
Warehouse protection barriers can range from guardrails and bollards to column guards and safety gates, and choosing which to install will be based on your needs.
If you need warehouse protection barriers to be supplied or fitted in Brazil, Mexico, or the United States, contact us today.
Why warehouse protection barriers are necessary
In many warehouses and distribution centers, there is a consistent flow of people, equipment, and heavy vehicles, such as forklifts.
Installing warehouse protection barriers can therefore be crucial to keeping people safe. Not to mention helping to prevent valuable installations such as warehouse racking from being damaged.
When planning a warehouse setup, understanding how the facility will operate and deciding where protection barriers will be placed is important to guaranteeing the smooth and safe running of operations.
Given the investment involved in setting up a warehouse or distribution center, and the costliness of getting it wrong, many companies seek to work with an experiences provider to assist with establishing operations.
That will include planning the distribution of, supplying, and installing the likes of warehouse protection barriers, racking, signage, and floor marking, among other things.
4 reasons you must use warehouse protection barriers
Below, four reasons to use warehouse protection barriers are highlighted:
1) To comply with established warehouse standards
A warehouse operations manual indicates, among other things, the steps to be followed in loading and unloading, labeling, and organizing products, but it also includes mandatory safety standards. Not following these procedures means being forced to suspend operations.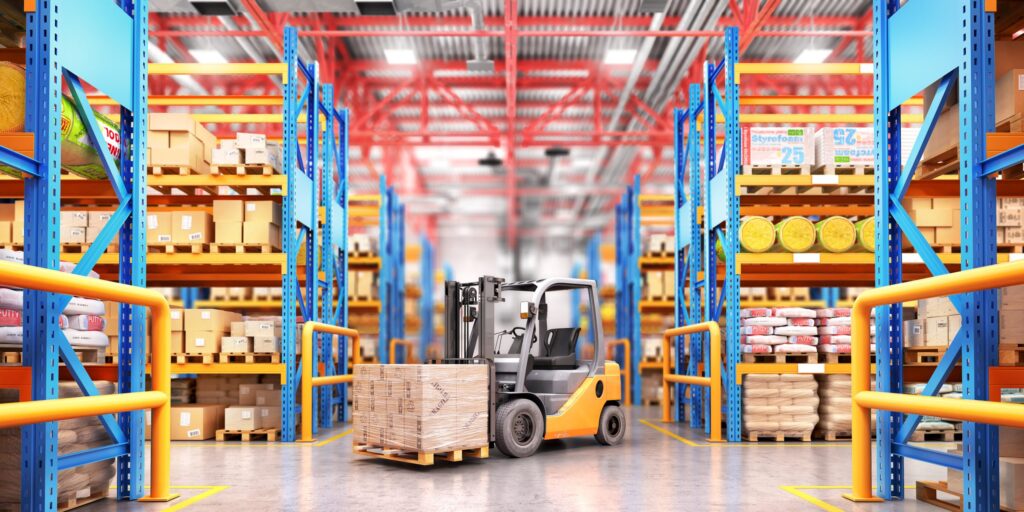 Every territory has regulations regarding the prevention of occupational hazards. In the case of warehouses, this usually involves the width of aisles and the warehouse floor marking, the load capacity of shelves, signage, personal protective equipment, and, of course, warehouse protection barriers.
Above all, safety barriers are indicated to delimit zones that can put workers at risk, such as areas under construction, spaces where dangerous materials are being unpacked, or where heavy machinery is being used.
2) To protect people
Whether with rigid guardrails, flexible bollards, or even automated safety gates, delineating and restricting certain dangerous areas is crucial to taking care of the people working in the warehouse. Almost all accidents involve human error, so this is where risk prevention is focused.
Warehouse protection barriers will tell a worker where not to cross. This will prevent accidents and create awareness among personnel. While some of these barriers may be in clearly dangerous places, others will be in zones where risks are not so obvious to the untrained eye.
Generally, protection barriers are yellow or orange because these vivid colors help people be alert and cautious about the zone they delimit or restrict. It's important to make sure that you follow a clearly defined and communicated color code so that everyone is aware of the meaning.
3) To protect goods
Safety barriers not only serve to restrict areas or spaces that may be dangerous for your personnel but also to protect the products and materials you store in your warehouse. After all, this is the lifeblood of your business.
Goods are constantly moved around within warehouses, when they arrive, need to be organized, or are being prepared for distribution. Every time that they are being moved, there is the chance of an accident, such as hitting a shelf and causing a collision.
No one wants to suffer inventory loss due to carelessness, so installing high quality warehouse protection barriers is a necessary step to ensure that goods are not hit, spilled, or broken. In addition, some goods have restrictions on access or conditions which will be affected if people enter their storage zone.
4) To protect installations
Racks, pallets, ladders, forklifts and other warehouse internal transport vehicles can be damaged if safety barriers are not installed. Also, fixed installations such as columns, walls, and doors are not exempt from damage and exceedingly hard to replace.
Damage to the infrastructure is particularly problematic as the machinery used within facilities is heavy duty and powerful. It is not easy to replace and refit walls and columns, as they comprise the very structure of the building. Over time, their structural integrity may be compromised, at which point the entire warehouse will be required to shut for repairs.
The machinery itself can also suffer damage in collisions, especially to extremities such as the legs of ladders, the prongs of forklifts or the legs of pallet racks. These relatively weak parts of otherwise durable and solid equipment can, if damaged, bring a halt to complex procedures.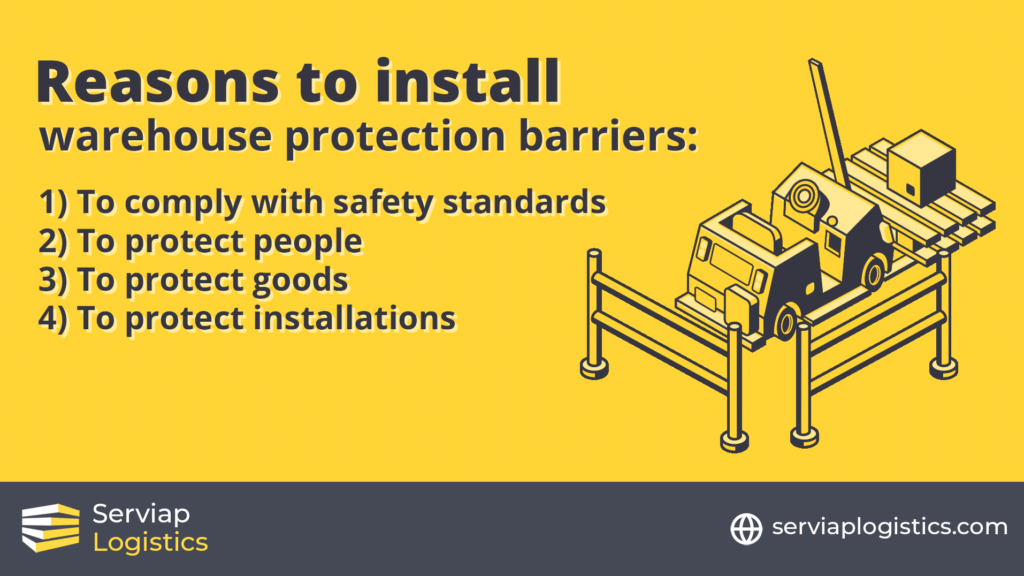 Considerations when choosing warehouse protection barriers
Be clear about your needs. For example, you can choose between rigid and flexible guardrails, buried or bolt-on bollards, column guards, retractable barriers, and more.
Check the quality and materials of your warehouse safety barriers and that they meet the standards required by local regulations.
Check that they are well placed, at the correct height, and with a certain distance between them.
Make periodic inspections to ensure they still have the necessary quality to guarantee your personnel, products, and facilities' protection.
Hire an expert who sells and installs warehouse protection barriers. They will help you save costs and maintain safety.
Serviap Logistics provides warehouse protection barriers
At Serviap Logistics, we supply and install warehouse protection barriers in Brazil, Mexico, and the United States. We also offer other features, such as racking, signage, and floor marking.
We also offer project management services and can help you with every aspect of a warehouse setup, refit, or relocation.
We are committed to service excellence and adhere to the highest safety standards wherever we work, including OSHA certification in the United States. Our satisfied clients come from a wide range of sectors, including automotive, e-commerce, and wholesale.
Contact us today for more information on how we can help you.